As a feminist, in my roles as children's bookseller and a book blogger, I look out for feminist reads, both for myself, to further my own education, and for family, friends and friends' children. With Christmas just around the corner, I thought I'd put together a Feminists Reads Gift Guide and share with you the books I've discovered throughout the year. I'll be sharing with you books for children, teens and young women, fiction and non-fiction, in the hopes you're inspired to buy some books this Christmas for the feminists and budding feminists in your life!

All links go to Goodreads, where you can find out more about the books. There aren't any links to any booksellers, but may I recommend Wordery - I'm not affiliated with them, but I use them myself, and they offer free shipping in the UK.
This post is a bit later than planned, but better late than never. We've already looked at
Picture Books
, so now we have...
Non-Fiction
Fantastically Great Women Who Changed the World by Kate Pankhurst*
(Bloomsbury Children's Books, RRP £6.99)


Fantastically Great Women Who Changed the World gives a brief overview of various women who made a differene, from Jane Austen to Mary Anning, from Mary Seacole to Emmeline Pankhurst, and many others. Although in picture book format, this book is for older readers, around 7-9, and touches on the highlights of these ladies' lives, enough to inspire, but without overloading them with information.
What Is Feminism? Why Do We Need It? And Other Big Questions by Bea Appleby & Louise Spilsbury*
(Wayland, RRP £13.99)


This is a fantastic introduction to feminism for pre- and early teens, around 11-13. It explains what feminism is, looks at the history of feminism, and related feminism to different aspects of life, such as body image, work, and education. It also includes some celebrities talking about "My Feminism", where they talk about why they are feminists and how they became feminists - and brilliant, Ben Bailey Smith/Doc Brown also talks about his feminism.
50 Unbelievable Women and Their Fascinating (and True!) Stories by Saundra Mitchell, illustrated by Cara Petrus*
(Puffing Books, RRP £6.99)


50 Unbelievable Women looks at wonderful women throughout history, telling their stories with humour. The writing isn't dumbed down, but the target audience was kept in mind when writing, 11- 13. As well as talking about women from the past, this book also covers women who are still alive today, like Ellen DeGeneres, Tina Fey, Ruth Bader Ginsburg, and Audra McDonald, giving readers present day role models to look up to.
Women in Science: 50 Fearless Pioneers Who Changed the World by Rachel Ignotosfky
(Ten Speed Press, RRP £13.99)


This is an absolutely gorgeous book that would be amazing for any budding lady scientists in your life. Women in Science talks about the women we don't hear about who achieved great feats and discoveries in Science, some of whom's achievements were credited to men. With Ignotofsky's beautiful illustrations in bright colours, this book is wonderfully eye-catching. Covering scientists such as Wang Zhenyi, who worked out what an Eclipse was, Nettie Stevens, who discovered the sex chromosomes, Jane Cooke Wright, who developed treatments for cancer, and Mae Jemison, the first African-American female astronaut to go up into space, this book is both educational and inspirational.
Notes on Being Teenage by Rosalind Jana*
(Wayland, RRP £6.99)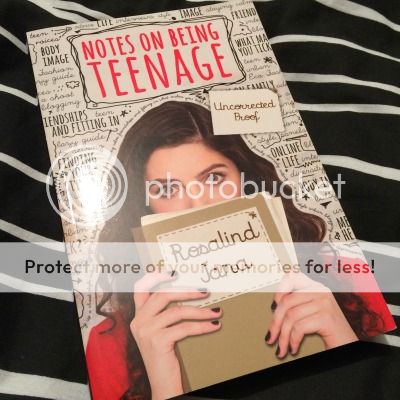 Notes on Being Teenage is a book for teens on growing up and being yourself by blogger and feminist Rosalind Jana. This book covers body image, family, mental health, friendship and love, but written by a young woman not long out of her teens who still knows and remembers, telling her own stories and anecdotes, with a feminist slant.
Bad Girls Throughout History: 100 Remarkable Women Who Changed the World by Ann Shen*
(Chronicle Books, RRP £12.99)


Bad Girls Throughout History is not a book you'll find in the Children's Department of a bookshop. Although for readers of any age, this isn't specifically a children's book, but would work brilliantly for those in their mid-teens upwards. Ann Shen says, "To be a bad girl is to break any socially acceptable rule. For some women, it's the way they dress. For other girls, it's the act of going to school. At one point, it was fighting for the right to vote. Anything we do outside the lines is immediately up for persecution. [...] Everything we've gained has been hard-won by a woman who was willing to be bad in the best sense of the word." With beautifully painted portraits along with short essays on the acts of these 100 women, this book would make a fantastic gift!
Wonder Women: 25 Innovators, Inventors, and Trailblazers Who Changed History by Sam Maggs, illustrated by Sophia Foster-Dimino*
(Quirk Books, RRP £12.99)


Liked the look of Women in Science, but the lady you're looking for a gift for is in her late teens, early twenties? Wonder Women is the book for book for you! This book looks at women in STEM (science, technology, engineering and mathematics) careers throughout history, with a kick-ass, feminist introduction. This book goes into more detail on women other books cover, giving more information about their work and the changes they made to the world- rather than a page as with previous books, this book gives each woman several pages. Wonder Women also includes inspiring interviews with women living today who worked in these fields. A fantastic gift for any women working in or interested in STEM.
Stationary
Feminist Journal*
(Chronicle Books, RRP £7.99)


Finally we have a journal from Chronicle books. Featuring feminist quotes from women throughout history, this is the perfect journal for inspiring and motivating you as you use it to make your plans to take down the patriarchy!
If you have older women in your life you'd like to gift with some feminist non-fiction, check out my
Books
category for some recommendations.
-
If you enjoyed this post, feel free to follow me on:
Bloglovin' | Twitter | Instagram